After weeks of teasing us with snippets of images, IK MultiMedia has finally revealed SampleTank 3 at the NAMM 2014 Show. We have the first details on this stunning looking instrument plug-in.
The new virtual instrument is a native 64-bit sample library / workstation plug-in with over 30 GB of samples divided over more than 3000 instruments. It has more than 2.300 loops and over a 1.000 midi patterns. These can all be played back and mixed via the built-in mixer section. SampleTank 3 comes with more than 52 effects for use in the Mix window.
It comprises of three main pages, Play, Mix and Edit. The Play page looks similar to the page in SampleTank 2. It has a browser to load an instrument or midi pattern. An Info button gives extensive details on the selected instrument with a large instrument image. On the right is the Parts viewer. This gives you a full overview over the 16 possible Parts with its own instrument. Each Part can contain 128 midi-patterns that you can trigger by assigning them to a keyboard at the bottom of the screen.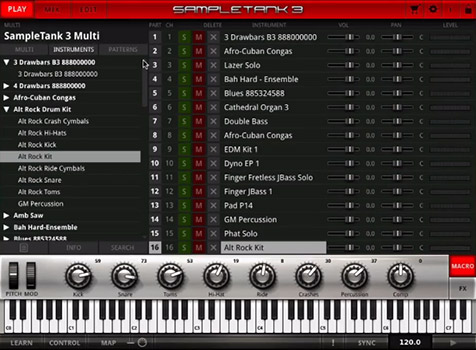 The Mix page gives a traditional mix channel-strip overview with each 5 effect slots. Each effect slot can use one of the 52 built-in effects that have been taken from Amplitube and T-Racks. Among the effects are the Black 76 and White 2A taken directly from T-Racks. A Panel at the bottom of the Mix window gives you the parameters of each selected effect. There are 16 channels for each Part, 4 FX returns for global Delays, or Reverbs and a Master Channel.
The Edit window offers a plethora of synthesiser parameters including various Envelopes, LFOs, and Filters.
IK MultiMedia has not yet put information on their website and pricing for SampleTank 3 has not yet been made available. More details follow soon. IN the meantime you can watch a video released by IK MultiMedia.