Mix Buddy

   Video Tutorials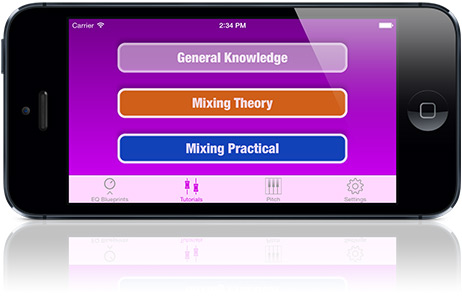 Watch video tutorials on mix technology
Next to hands-on training, video is probably one of the best ways to show how technology works. That's why Mix Buddy has an expanding library of video tutorials on pro audio and mix technologies. There are currently three video tutorial sections to choose from in Mix Buddy, General Knowledge, Mixing Theory and Mixing Practical.
General Knowledge contains important fundamental pro audio topics that help you understand many of the other video tutorials. The videos under Mix Theory explain fundamental mix techniques that are an important part of understanding the mix workflow. The Mix Practical button gives you a practical view on many of the workflows and technology in mixing.
If there's a topic you'd like to see covered in a video tutorial, we would love to hear your feedback.
List of video tutorials in Mix Buddy (v1.2)
– Mix Buddy Quick Start
– Introduction to tutorials
– The Timbre
– Frequency Spectrum
– Digital Audio 101
– Digital Audio 102
– Introduction to Mixing
– EQ 101
– Processing and Effects
– Compression 101
– Compression 102
– Compression 103
– Compression 104
– Parallel Compression
– Monitor Setup 101
– Monitor Setup 102
– Acoustics 101
– Acoustics 102
More video tutorials are coming in updates of Mix Buddy