Mix Buddy

   EQ Blueprints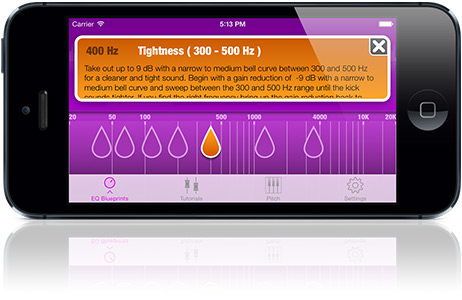 Learn to shape the sound of instruments
Improving the sound of an instrument in your mix is but a tap away with Mix Buddy on your iPhone, iPad or iPod touch. As the name suggests an EQ Blueprint is an overview of the important frequencies that determine the sound of an instrument. Mix Buddy comes packed with EQ Blueprints for many different instruments.
Every EQ Blueprint shows you the important frequencies on a visual frequency spectrum by means of Droplets. Each Droplet represents a specific frequency or frequency range of the instrument and explains what effect the frequency has on the sound of the instrument.
The best part is that if you use Mix Buddy often enough you will start to learn the important frequencies by heart and grow a personal preference for specific adjustments. That's the moment you start developing your own sound.
List of EQ Blueprints in Mix Buddy (v1.2)
808 Kick
808 Snare
Acoustic Guitar
Background Vocals
Banjo 5 string
Bass Guitar
Brass Section
Clarinet
Conga
Cymbals
Double Bass
Drums
Egg Shaker
Electric Guitar
Electric Organ
Female Vocal
Grand Piano
Harmonica
Hi-hat
Kick Drum
Male Vocal
Piccolo Flute
Saxophone Alto
Snare Drum
Strings
Tambourine
Toms
Trumpet
Tuba
Viola
Violin
More EQ Blueprints will follow in updates of Mix Buddy
Get creative with Mix Tips
Each instrument from the library has a tip button. This gives you many different tips on the use of equalization, compression, reverb and delay, just for that specific instrument.
With each update of Mix Buddy more mix tips will be added

Save your own favorite EQ and mix tips
Have you ever come accross a great mix tip that you wish you could remember during a mix session two weeks later? You don't ever have to forget them again. With Mix Buddy you can now create and store your own EQ and mix tips that you collect from experience, friends, books, magazines, blogs or during your study. Whenever you're in a mix, the unique and easy to use interface of Mix Buddy allows you to quickly find a mix tip for a specific instrument.
Creating your own EQ Blueprints is also great when you do live sound. Use Mix Buddy to store mix desk EQ settings for all the instruments in the band. Make notes of acoustic frequencies from venues that you visit frequently during a tour.