Frequently Asked Questions
Find answers to the most asked questions about Mix Buddy. If you have a question that is not on this list please don't hesitate to contact us for support via the contact page.
Do the Mix Buddy tips work for any audio software or mixing desk?
Yes!
Mix Buddy has been developed to be completely neutral. All tips and video tutorials can be used with any Digital Audio Workstation or mixing desk.
Do you plan to update Mix Buddy with more EQ Blueprints of other instruments?
Yes!
Future updates will definitely bring you more frequency characterics of new instruments. Let us know which instruments you would like to see added by sending an  e-mail.
Will there be more video tutorials available?
Absolutely!
Current video tutorials are only the beginning and many more topics will find their way into Mix Buddy with future updates. (see sidebar)
Will Mix Buddy become available for the iPad?
Mix Buddy already works great on the iPad in iPhone compatibility mode. If you zoom in by pressing the '2x' button in the lower right corner of your iPad, you can use Mix Buddy in full screen and the interface looks great and functions very good. Especially on an iPad with a Retina Display.
Even so, we are currently working on making the app universal binary so it runs with an optimized interface on all iDevices including the iPad.
Stay tuned!!
Development
January 2014
We have been overwhelmed with requests for making Mix Buddy a universal binary application, so that's exactly what we're working on.
Mix Buddy already works great on the iPad, but it currently uses the iPhone compatibility mode. Universal binary means that the one app will run on both the iPad and the iPhone, using an optimized interface for each. Current users will be pleased to hear this will be a free update that allows you to optimally run Mix Buddy on all your iDevices.
The current version 1.2 of Mix Buddy, gained iOS 7 compatibility and is available now in the App Store. It has a great new feature that allows you to store your own EQ and Mix tips that you collect from experience, friends, books, magazines, blogs and other websites. With the unique and easy to use interface of the EQ Blueprints you can build an extensive library of mix tips on your iPhone, iPad or iPod touch. Whenever you're stuck in a mix, you have a wealth of help, tips and ideas right in your pocket.
Watch this support page for more info on future development.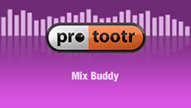 We will regularly add new video tutorials with future updates of Mix Buddy. We therefore love  to hear from you which topics you like to see added. So why not send us your feedback!