Today Slate Digital introduced the Virtual Microphone System. A new hardware and plug-in combination that emulates the sound of many classic microphones.
Virtual Microphone System or VMS, is a new hardware and software combination modelling 'dozens' of classic microphones and their discrete preamp circuitry. Slate Digital developed two microphones, the ML-1 and ML-2, plus a dual preamp convertor. These operate together with a plug-in to create 'extremely high definition, clean, linear and low distortion' mic preamp recording chains. According to Steven Slate, it is not an Impulse Response, nor convolution. To quote Steven "It is the real thing".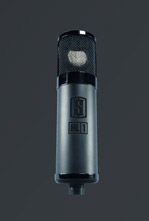 The ML-1, according to Slate Digital, is an extremely high definition, ultra linear, large diaphragm microphone with extremely precise transient reproduction. It has a flat frequency response and an ultra wide bandwidth that creates the blank canvas needed for transparent and correct classic microphone emulation. Using the preamp and software it will even emulate the exact proximity effect of microphones like the U-47 (cleverly called S-47 in VMS).
The ML-2, like the ML-1, is a clean, high definition, linear, small diaphragm microphone with low distortion. This tiny microphone can model classic dynamic microphones as well as small diaphragm condensors and even Ribbon microphones.
The VMS Dual Preamp and Convertor makes sure the microphone signals are void of any coloration before the software adds the chosen microphone emulation. A super linear and clean circuitry is supposed to make ensure that the most pure signal is recorded into your DAW from the ML-1 and ML-2 microphones. This should give the plug-in module the opportunity to add the perfect reproduction of classic preamps and microphones.
The software plug-in module is that what models the 'dozens' of classic microphones. According to Slate Digital the plug-in contains Large and small diaphragm condensors, dynamic and ribbon microphones. If you watch Steven Slate introduce the VMS system, you can clearly see the plug-in inserted in the Virtual Mix Rack announced earlier by Slate Digital. Steven even sings a word or two, to convince us of the quality. So far I have been very convinced about the quality of most of Slate Digital plug-ins. But can they really pull off a microphone emulation system that recreates classic microphones without having the hardware color the sound? We will have to visit NAMM 2014 booth #6921 to hear for ourselves.
A price or release date have not been announced yet. For more information on the Virtual Microphone System, visit this preview webpage on slatedigital.com.
[UPDATE]
The price for the full set with 2 microphones, the VMS preamp and a dozen or so mic models will be set around US $2000. It will be available somewhere in Q2 2014.