Air Music Tech announces updates of their flagship Instrument Expansion Pack. This includes VST and AU versions for all the plug-ins.
As we predicted Air Music Tech today announces the new version of their Instrument Expansion Pack. Many non Pro Tools users have long coveted VST and AU versions of the great plug-ins in the Instrument Expansion Pack. Last year Avid sold Air which gave way to innovation and new updates of all plug-ins. Next to VST and AU versions, Air will update Hybrid to version 3 with many new features.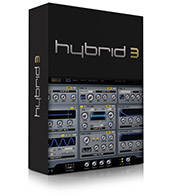 Hybrid 3 features
– All-new sound engine for larger-than-life audio synthesis
– Hype & doubling controls make your sounds massive
– Updated graphic interface with faster-than-ever workflow
– Over 1,200 inspiring, editable presets
– Expanded step sequencer with variable event durations
– 32 & 64-bit; VST, AU, RTAS, and AAX
It's not clear yet whether the VST and AU versions will also be freely available for current Pro Tools Instrument Expansion Pack owners. Considering the previous upgrade troubles, this would be a very nice gesture from Air Music Tech. Hybrid 3 has been confirmed to be a free update for current Instrument Expansion Pack owners.
We will update this article as soon as more details become available. Visit Air's website for the NAMM update announcement.
One last word to Cubase and Logic users. If you're in the market for some good, no great VI plug-ins, don't even think twice about buying the Air Instrument Expansion Pack. They offer amazing sound quality and a fantastic value for money. You won't regret it.